Welcome to Destined Wiki
The Destined wiki is a free, public and collaborative project for all, to help create a definitive encyclopedia for the hit-television spin-off of Charmed, DESTINED. This page is full with spoilers!

We are currently editing 1,082 articles since March 26 of 2012.
ABOUT DESTINED
DESTINED SEASON 1 - Set from 2030 to 2031, Destined brings us the new adventures of the Halliwell family. We´re introduced to the Destined Ones, the children of the so well known Charmed Ones. In the first season we learn a little bit about what happened for the past 24 years as we follow their lives and the battles against new and old demons.

DESTINED SEASON 2 - Set from 2031 to 2032, brings us back the Destined Ones and their fight against Evil New demons arise, old and new threats appear to be faced, and a new species would change the world, if not stopped in time.

DESTINED SEASON 3 - Set from 2032 to 2033.

DESTINED SEASON 4 - Set from 2035 to 2036.

Destined was written by Sol and belong to her. It cannot be copied without her permission. I do not own anything Charmed related, which is owned by Constance M. Burge and Brad Kern. No infringement of any copyrights is intended.
FEATURED ARTICLE

Prue Halliwell is the third oldest of the Destined Ones and first born child to Phoebe Halliwell and Coop. She is older sister to Charlotte and Cassandra Halliwell. She is also the second Twice Blessed Child. She was born exactly four years after her cousin Wyatt. Prue, Melinda and Tamora are the new Power of Three (more...)
MAIN CHARACTERS
SUPPORTING CHARACTERS
LOCATIONS
ARTIFACTS
FEATURED DESTINED QUOTE
| | | |
| --- | --- | --- |
| " | Prue, you got two of them. Telekinesis and Premonitions. Mel, you got Molecular Immobilization. And you, Tam, you got Telekinesis as well as Prue. It means that you three are the new Charmed Ones. | " |
FEATURED CHARMED QUOTES
| | | |
| --- | --- | --- |
| " | Darryl, I'm sorry, but what do you want me to say? My sister was just possessed with a supernaturally born killer and my husband is in 1994, and I do not mean in the fashion sense. He time traveled back with my other sister so the only one left to help me is you. | " |
FEATURED CHARMED CHARACTER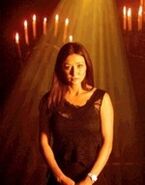 Prudence Halliwell was the oldest Charmed One, and had always been regarded as the bravest and most powerful of the four sisters. Her powers were focused on mind and movement: telekinesis and astral projection. Prudence also possessed the basic powers of a witch: casting spells, potion making and scrying. She could also access The Power of Three, the collective power of the Charmed Ones. Early on in the series, Prue is regarded as the most powerful witch of the Halliwell sisters. During the first three seasons, Prue attempts to balance her destiny of defeating the forces of evil in San Francisco with taking responsibility for her sisters and leading a normal life as an appraiser for an auction house and later as a professional photographer. At the end of the third season, she is murdered by Shax, the personal assassin of the dangerous Source of All Evil. The character was portrayed by Shannen Doherty in the series between 1998 and 2001, appearing in every episode of the first 3 seasons until the character's death.
FEATURED POWER


Telekinetic Orbing is an active hybrid combination of the powers of Telekinesis and Orbing. It is the ability to move an object from a side to another using orbs. Whitelighters-Witches possess this power: Paige Matthews, Wyatt Halliwell, Chris Halliwell, Tamora Mitchell, Pandora Mitchell and Henry Mitchell Junior.
DISCOVER
Destined Opening Song

PREVIOUSLY ON DESTINED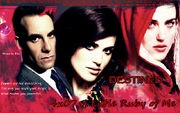 A Little Ruby of Me is the Seventh Season 4 episode of DESTINED.
PAST, PRESENT, FUTURE -- With Prescott Group almost in her grip, Ruby creates a devious plan to get rid of Julian Prescott once and for all, and plans a twisted murder. But when the S.F.P.D. opens an official investigation into Julian's mysterious death with Henry and Junior at the helm, things quickly escalate. They unknowingly follow the breadcrumbs left by Ruby, and find a surprising end. Meanwhile, Wyatt and Chris recruit Cassandra and Junior into their own investigation into Prescott Group, while Prue and Wyatt discuss names for their baby, and Bianca discovers her baby's gender. Elsewhere, two intertwined stories are told in a series of flashbacks, revealing more about the Red Witch and how she came to be. And in a surprising flash-forward, a glimpse into the future is seen.
NEXT ON DESTINED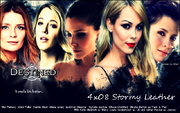 Stormy Leather is the Eighth Season 4 episode of DESTINED.
CHANGING TIDES -- A recently recuperated Jannes seeks help from the Demonatrix, who attack Pandora at her office, forcing Junior, Tamora, and Jo to get involved. Along the way, Tamora makes a discovery about Jo, and the women of Destined go undercover to defeat the clan. Meanwhile, as Wyatt and Sebastian continue to search the library for answers, Chris' concern over his brothers new obsession grows, just as Prue's new attitude surprises everyone. Meanwhile, Melinda's love life complicates as she confides in Damon, while Liam asks her question that takes her off-guard. In the end, the Destined Ones overlook the Demonatrix's true target, forcing a surprising person to intervene. Also, Jannes takes the fight to Ruby with the help of Aisling.
OUR NETWORKS
Follow, Join and Like Us


DISCLAIMER
Destined was created by © Sol and belongs to her. All characters traits in Destined belong to © Sol as well. Destined is a registered work and belongs only and exclusively to ©Sol. Any copy or reproduction without permission is a crime punished by law. Promotional posters and images were created by © Sol as well. Photos used to created promotional images for Destined are property of their respective owners.The Destined Wiki is not affiliated with Charmed or Destined Cast. All trademarks, copyrights and/or legal ownership of items are property of their respective owners. Some of the info found about Charmed are property of Charmed Wiki and information about anything else can be found in their own pages of this wiki. The layout of this page was inspired by Bloods Universe and designed to fit Destined criterias
This wiki is a fun, informative guide to all Charmed and Destined fans to use as they see fit.
POLL
Which Destined One is your favorite?
OUR AFFILIATES